Trap Man rat kill kit
A kit that contains all you need to kill rats in a normal infestation, enough rat killer to kill up to five rats with the back up of a metal selfset rat trap and a wooden snappy rat trap.
Signs to look out for are damage caused by gnawing, holes, smears and droppings. Packaging will often show tooth marks, the size of which will indicate whether it is a rat or a mouse. Holes made by the rats in doors and walls, and the entrances to nests, are about 80mm ( 3 inches) in diameter, and nests may be made in wall and floor cavities. Having established the best route from one place to another, rats tend to use this route frequently. This run becomes soiled with the grease and other dirt on the rat's fur and will be very apparent in even moderate infestations. Foot prints are sometimes apparent on soft or dusty surfaces. The amount of rat droppings present is a good indication of the size of the infestation and how long they have been there. Control Removal of food, water and harborage will deny rats their three main requirements for survival. The infestation should be controlled by trapping. To be effective, traps need to be efficiently managed and should not be accessible to other animals or humans, and extra care is needed if there are children in the house. It is essential that all other food sources are removed in order to force the rats into take the bait.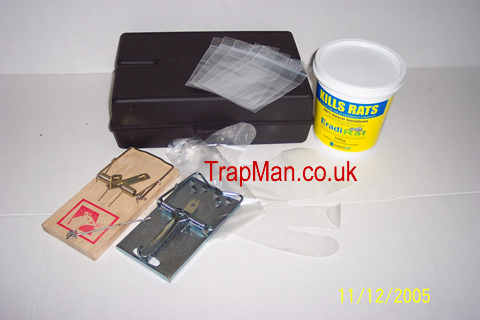 no longer available
Your rat kill kit includes one bait box one 500gm tub of Eradirat one wooden snappy rat trap one metal selfset rat trap , five bait bags, five disposable gloves and ten carrier bags to double bag the dead rat into for safe disposal.
If you suspect you have more than a few rats simply buy two kits, if you think that even this is not enough buying the 5kg tub of Eradirat and some bait boxes may prove a cheaper and better alternative.

Repair of damage caused by rats may be required, and proofing of the premises from further access to the property is essential. Capping open drains, secure any plastic grids, filling holes with cement, wire or expanding foam, placing rat proof netting round the base of wooden out buildings, sheds etc.
Rats are smart !.
.......Rats don't want to be caught,
................Rats won't go for the bait unless there is
.........................No other food available.
When handling dead rats, use precautions to avoid the possibility of disease transmission. Use gloves. Apply household disinfectants at recommended concentrations to dead rodents, rodent droppings, nest and surrounding area, and allow for at least 15 minutes contact time before removal. Clean the area with paper towels or a mop. Double bag the disinfectant soaked rodent and clean up materials securely in two plastic bags and tie up the tops. Thoroughly wash hands with soap and water and dispose of gloves.