The Trap Man Gold Pro Feral cat trap, a live capture humane feral cat trap cage as used by cats protection, animal welfare, trap neuter release programs and local authorities etc. A very strong feral cat trap, which is longer than most, light in weight, 4 kilos, welded steel mesh frame with a Plexiglas see through sliding rear door that make catching and removing the feral cat much easier.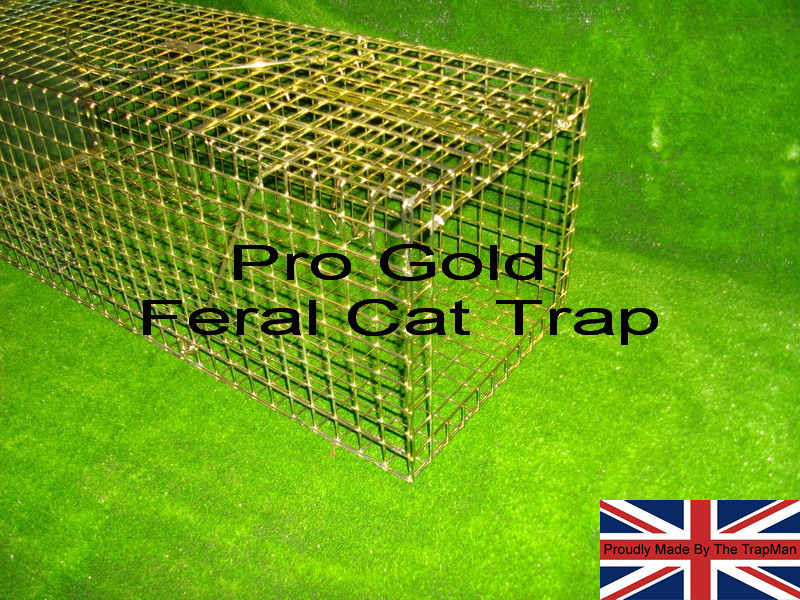 32"x11"x 10" approx.
These feral cat traps are made in UK by ourselves to exacting standards in our own workshop, can be delivered next day
Need a cat carrier to put the captured animal in after its been caught, try our wire cat carriers
The feral cat can SEE through the Pro Gold Feral Cat Trap it thinks it can get clear out through the"tunnel" and is not so wary of stepping inside.Wear heavy gauntlet type work gloves (available here) while handling the feral cat and trap.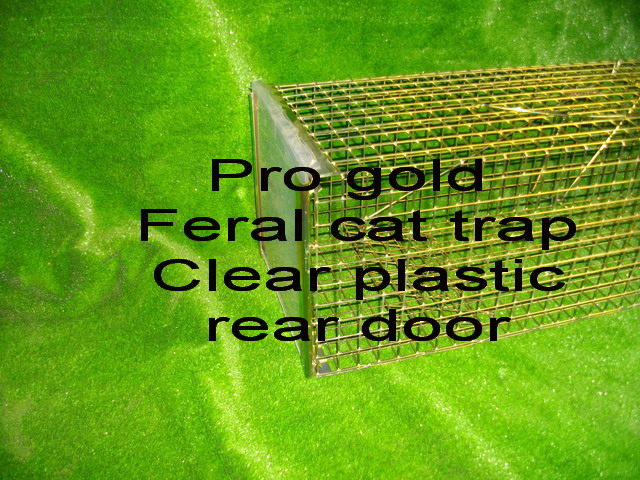 Pro Gold Feral Cat Trap Large door opening invites the wary feral cat inside, no dark, noisy sheet steel door to scare the feral cat. Our Gold Pro Feral cat trap has outward closing lightweight mesh door that is spring loaded with a positive locking bar and is designed not to trap the feral cat's tail.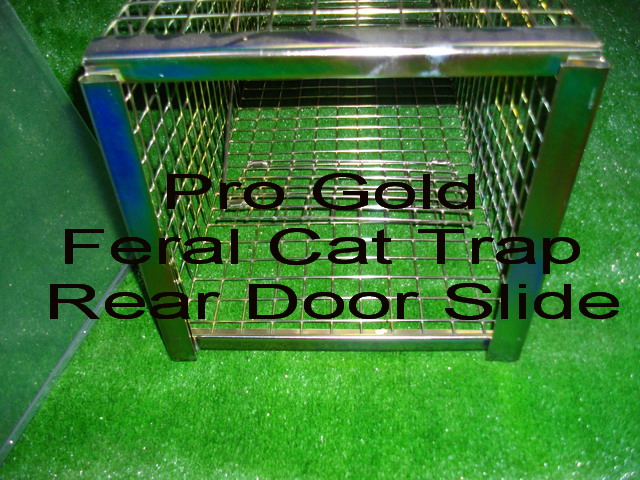 Traps with inward closing doors tend not to be long enough as they rely on the cat being forced forward into the trap by a heavily sprung sheet steel door.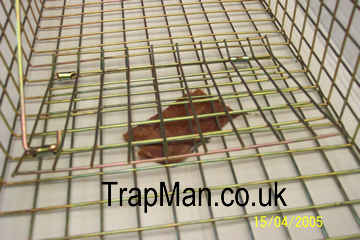 Large wire mesh treadle, the feral cat has to stand on this treadle to get to the bait below the cage, as soon as the cat stands on the treadle the door closes, simple and effective

Pro Gold Feral Cat Trap large bait treadle has been designed so once inside the cat trap the feral cat can see through to the bait beneath, the clear sliding rear door on our Pro Gold Feral Cat Trap makes baiting easier. No chance for the feral cat to jump behind the treadle and take the bait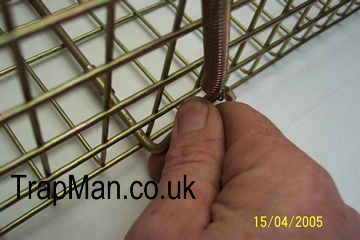 Pro Gold Feral Cat Trap exterior door opener, easy to open the trap just as easy to set setting instructions HERE
We also do a pack of two pro gold feral cat traps, Save a bit on delivery buy two pro gold feral cat traps
Strong gantlet gloves, although not puncture proof these gloves will offer some protection from the claws and teeth of a captured feral cat, grey squirrel, rabbit or other captured animal. colours vary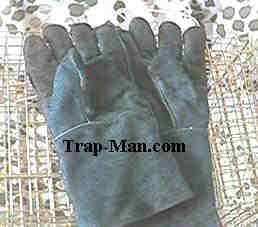 Before you start thinking about buying a feral cat trap to catch a feral cat make sure the cat is a feral. Many cats have been abandoned by their owners, and have not been altered. These cats have litters of kittens, who, if not handled by humans, become feral. Ask your neighbors if its their cat, put an add in the local newspaper, local shop or on lamp post's along your street Ask around first BEFORE deciding to trap, if it is someone's cat, any unjustified control may lead to your prosecution, don't come crying to Me
Guide to identifying a feral cat
Need a cat carrier to put the captured animal in after its been caught, try our wire cat carriers
Dear All
We live in a society where nobody says thank you anymore - so I wanted to put that right by saying a big thank you to all concerned in the above order no. From the start of the transaction to the arrival of the cat trap in Spain the service was exceptional.
All my emails were answered promptly and with courtesy. I know you probably don't have contact with DHL direct but again the delivery service was superb. My friend in Spain can now trap the local feral cats, have them neutered and return them to their surroundings knowing that the cat population of her area will be reduced.
Once again thank you all so much
Kind regards
M O'M