The Trap Man proudly presents the revolution in humane and environmentlly friendly slug and snail control.

The Trap Man Slug Trap is safe and "green" since it uses no chemicals or other toxic substances.
The Trap Man Slug trap is uniquely and totally portable, can be used in garden borders as well as patios and decking. Chemical free, environmentally friendly and harmless to any other wildlife or pets, this is one of the most effective slug traps we have ever sold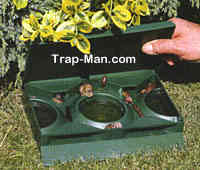 The Slug trap is baited by filling the internal reservoirs with beer to within five or ten millimeter's of the top giving a large catchment area .It is important to note that it works because the prey crave and are attracted by the yeast content of the beer which is given off as a vapour: since lager fermentation is achieved with sugar it will not work in the same way.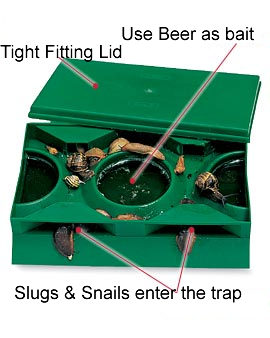 The trap man slug trap works by enticing the slugs or snails into the slug trap by the smell of yeast in the beer, once inside the slug or snail drinks from the reservoirs and becomes intoxicated to such an extent the slug or snail drowns in the beer or is so drunk it can't find its way back out of the trap, brilliantly simple and very effective, catches loads of slugs and snails
A single can of beer is sufficient to bait two traps.
The Trap Man Slug Trap is made from plastic and the slug trap can easily be emptied and cleaned with a hose
A chemical-free trap that can be moved around a garden to clear it of slugs without being sunk into the ground . Slug X trapped up to 50 slugs and snails overnight during trials and is designed to revolutionize the removal of what many gardeners regard as their worst enemy. The robust yet lightweight polypropylene box can be regularly repositioned on any flat surface in areas where slugs rest during daylight hours, usually in or close to ground cover such as long uncut grass or clumps of permanent plants. The trap is safe for pets and wildlife, and can also be placed on lawns, patios, or even greenhouse staging to protect young seedlings. The trap contains three molded wells that the user fills with beer. With the lid closed, vapor diffuses through access openings and lures slugs up integral ramps on either side of the box. On entry, slugs will either drink or drown immediately, or retire to a quiet corner for rest before crawling rapidly to the nearest well. Slugs are unlikely to leave once inside.
Slug Traps measure approximately 10¼ long x 8¼ wide x 2 1/3 inches deep (260mm x 210 wide x 60mm deep), and weigh approximately 10 oz. (275g),

Poisonous bait contaminates the food chain because the wrong animals take it or poisoned slugs are consumed by birds, pets and garden wildlife.
Open sided slug pubs allow the prey to escape and all other variations require that the trap be buried which can prove difficult, to say the least, if the infestation exists on a paved patio and undesirable on lawns and greenhouse staging.
Environment friendly slug pellets do not work properly since they contain no poison to kill the snail or slug and constantly need to be replaced.