Strong, sturdy, large wire cat basket, for cats, small dogs, rabbits, guinea pigs etc. Plated wire does not have the same problems associated with plastic coating as it does not chip off, its also easy to clean and disinfect ready for its next journey ideal rabbit basket, cat basket small dog cage,
Large cat basket 18" x 11 1/2" x 11 1/2" £29.99 +vat+delivery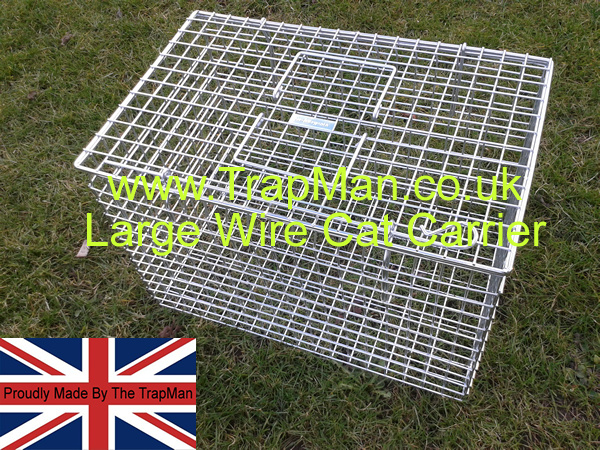 Large cat basket 18" x 11.5" x 11.5" Weigh's in at 4kgs, so increadably robust, this cat carrier will withstand over 100Kgs evenly distributed weight without distorting, You can be stack these cat baskets high without fear, they can be disinfected using chemicals, autoclave, power washers or steam cleaned without harm.
These carriers are top loading, the cat is lowered into the basket, much eaisier than the open end type,. The mesh sides have the advantage of being incredably strong but still allow the cat full vision of its surrondings.
These baskets are the best, as used by vet's in their surgeries, animal welfare organisations, professional animal breeders and veterinary surgeries both in the UK and abroad.
Don't take our word for it read this review
Other cat baskets, carriers, crush cages, trap transfer cages will be available soon, drop us an email with your requirements
Protecting domestic pets when visiting veterinary surgeries. moving home or simply transporting them safely over distances is an important task which demands the best products available for all who care for animals.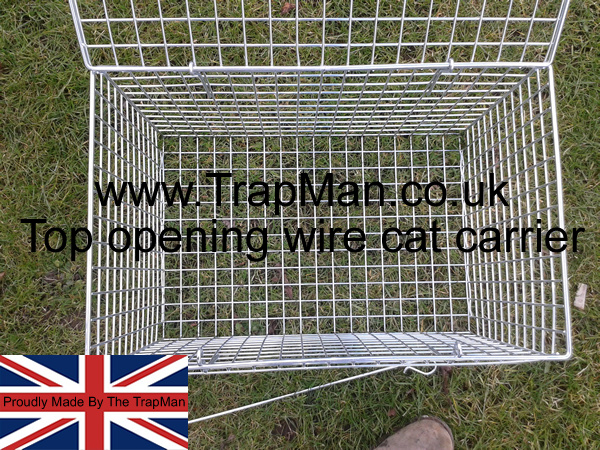 Once you do buy one of our cat basket......and you will...get your cat used to it.....bed the base out with your pets favorite blanket.......leave the top open....let your cat sleep in the carrier with the lid closed but not locked ...this will help next time you visit the vet.....your cat will not then associate the carrier with a visit to the vet.