This kit includes a 50m roll of green electric rabbit netting standing 70cm (28in) high. This flexible electric netting has a 3-4in (approx) square mesh size and is very effective against Rabbits and Badgers. The horizontal strands are electrified, except the bottom black strand, which is not live to avoid shorting out on vegetation.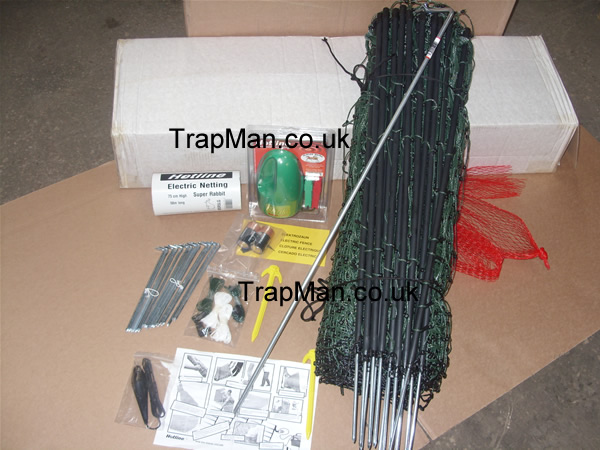 When deterring rabbits the net is best erected at a 45 degree angle facing the hedgerow / fence so that the ears of the rabbit touch the net before it can get close enough to burrow underneath. The shock the animal receives will not harm it at all but it will learn to keep away from the fence.
The Shrike Energiser is a low powered 3v energiser that is small and compact, easy to move and runs on two D cell batteries. A more powerful 9v/12v energiser would be needed for longer lengths of netting

Kit includes:
50m x 65cm Green Rabbit Netting, including 14 black flexi-posts.
Shrike 3v Energiser (2 yr warranty)
2 D cell batteries
Small Earth Stake
Warning Sign
Pocket Tester
Installation Instructions
More black flexi-posts are available separately if you think it may be necessary to add them to keep the net taut.