The Trap Man multi live catch humane repeating mouse trap
The Trap-Man multi live catch repeating mouse trap, simple to use, easy to clean, strong and safe for children, pets and for the captured mice, No Poison, No Kill, Humane Live CatchHere's how the Trap-Man multi live catch repeating mouse trap works, two side entrance openings conceal an inclined slope that the mice are enticed into by their own curiosity, other captured mice or some form of bait or attractant. As the mouse walks up the incline the weight of the mouse tips it into the trap at the same instance closing the door and resetting the trap for the next mouse to enter.
10" long x 6" wide x 2" tall (approx.) made from long lasting galvanised steel with a plexiglass viewing window in the lid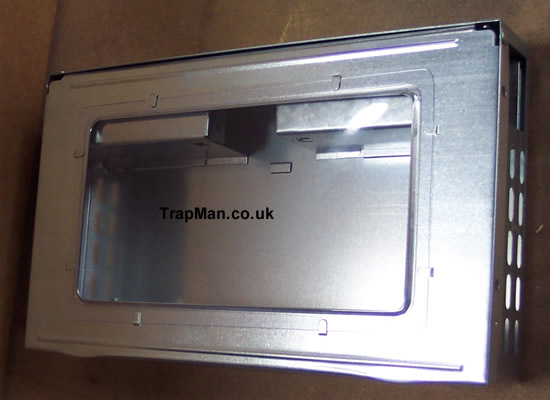 Multi Catch mouse trap
Place The Trap Man multi live catch repeating mouse trap flat on the floor against the wall or skirting with the openings adjacent to the wall. Mice run from one safety point to another, they'll run along the wall and into the opening in the trap and be enticed into the trap and safely caught. Trapped mice attract other mice, soon you may catch the whole family, up to thirty mice, with out resetting the trap, safely without harming the mice
Bait with a quater inch slice of snicker bar placed in the centre of the trap, in hot dry weather a jam jar lid filled with water works as excellent bait. Close the lid and place a small book over the transparent cover to exclude the light. If the mice won't go in, try leaving the lid open until the mice start eating the bait, then re-bait and close the lid.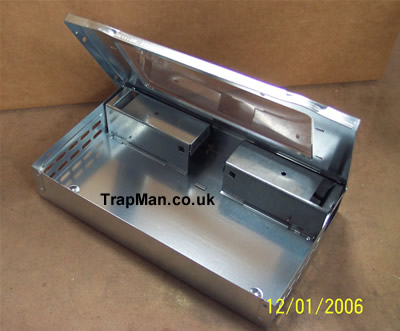 N.B. the trap must be inspected at least once per day and preferably no longer than 4 hours apart, to avoid stress or death to the captured mice
PLEASE NOTE This traps the mice alive and you can release them away from your property, they will need to be taken about a quarter of a mile away or they will find their way back ! You must inspect these traps regularly or the mice will die of thirst or stress which is more cruel and against the UK law and remember when you have finished using your multi mouse trap store it upside down to prevent accidental captures.
Don't put your finger into the entrance holes your smell will deter the mice from entering and may damage your trap and your finger.
Mice are smart !.
.......Mice don't want to be caught,
................Mice won't go for the bait in the mouse trap unless there is
.........................No other mouse food available.
Hi Andrew,
This is the second time I order from you and the second time you impress me with a speedy response to my queries and fast delivery of my order. I am delighted to deal with you!. The repeater mouse live traps works very well and the wind up mouse traps haven't has the chance to show up what they are up to, yet . These are very efficient and safe tools for getting rid of mice without having to resort to dangerous poisons and chemicals.
Cheers A
Hi Trap Man
My live multi-catch mouse trap arrived today as promised, and just caught two mice within ten minutes of each other! One more to go to beat the number I evicted using just an empty nappy box. I'm pleased with the trap, and will let you know how things progress.
SS
Thank you I can report that the mouse in the front room was caught on the second night , also put trap in next room and one in there also. Thank you for making something that worked. Both mice are happy in a small copse on Lincoln common. Thank you Chris
Dear TrapMan
My Mother-in-law spotted that she had mice in her garage when she was attempting to clean it out. After emitting a scream I was tasked with getting rid of them. (she said she saw 2!!!). Having 2 children they demanded that the mice be caught alive and set free and under no circumstances was I to set traps that would kill them. I bought 2 cheap humane traps from the local DIY shed and these proved useless. The mice were obviously going in them but also getting out of them.
On trawling the internet I came across your site and ordered one of your humane mouse traps. After following the instructions I baited the trap and after 2 days caught a mouse. This was taken well away to a local wood and released. In another 2 days it caught 2 more who looked quite content in the trap and were released. The trap was re-set and another was caught and I've just had a call that another has been caught. The trap has caught 5 mice so I presume they have been in the garage a while and have bred. I would like to put on record that the trap is first class. It works and the mice don't look too distressed when they are in there as long as it is checked regularly.
My mother-in-law is now pleased that I am catching the mice but is getting a little nervous on the quantity. I know it is hard for you to say but from your experience how many mice do you think she may have. I'm sure they are not returning as I am taking them 2 miles away.
Thank you for your help and keep up the good work. thanks A H